Naughty college girl is pulling her top up and flashing big round fake boobies in a public beach. These babes love to spend time on a hot sand drinking cold fresh cocktails and having a fun. Couple cocktails make them relaxed and cheerful when they do not hesitate to share their sexy bodies to the camera men and other people. This lucky guy has got big melons with visible tan lines over them for free.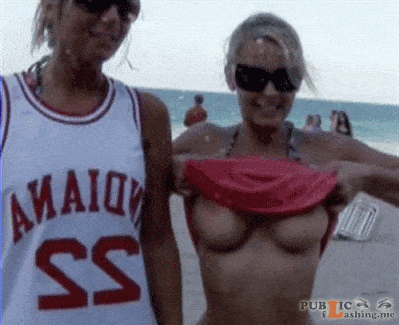 User Rating
2.5

(

2

votes)
Related Posts: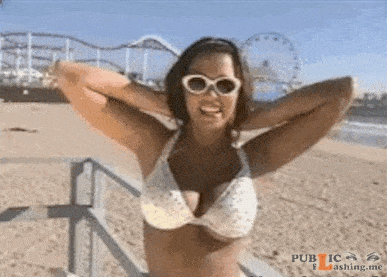 Sexy tanned brunette is taking down her white bra as a surprise for her followers. She reveals her really big natural melons which looks like they are full of fresh milk. Super hot babe really enjoys to be topless. There are no tan lines on her breasts which means that she often shares her big … Continue reading White bra goes off on the beach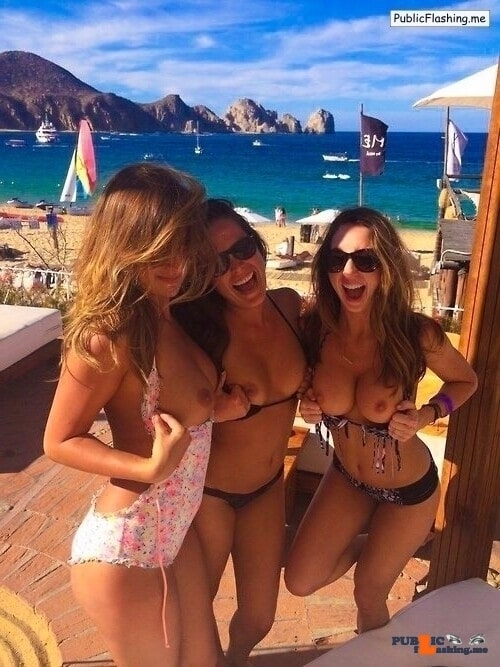 What happens on vacation stays remembered forever. Just like in a case of these three college girls who spent their wildest moments on the seaside. In this there is just one of these moments where all three girls are flashing their cute boobies on the beach. A lot of cocktails, good music and good mood … Continue reading Three girls group boobs flash on the beach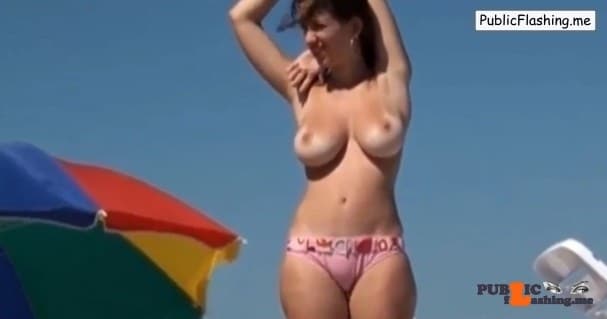 Dark haired beauty is showing off topless on the beach and let us all enjoying in her big natural breasts jiggling and bouncing while she is shaking down some sand from her curvy body.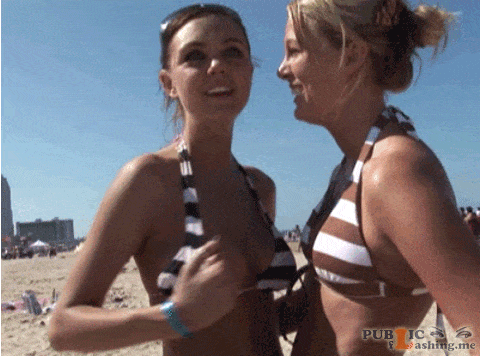 Naughty brunette is flashing her big natural boob for a guy behind the camera. She was with a beautiful blond friend who was feeling embarrassed when big boob slipped out of bikini on the beach where were a lot of strangers. However, big smile on blonde's beautiful face and cute natural tit of wild brunette make this animated … Continue reading Beach boob flash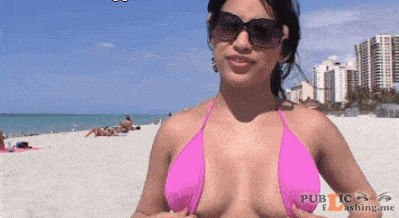 Tanned Latina in pink bikini is flashing her big fake boobs on public beach. Round boobs and chocolate brown nipples are so delicious. What a privilege for this lucky cameraman. While there are some couples sunbathing on the beach this hot Latin girl decided to heat up the temperature with her busty tits and nice … Continue reading Pink bikini big boobs flash on the beach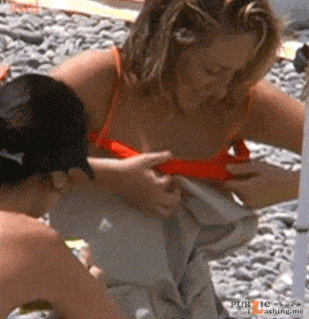 Some hot MILF was changing her top on the beach when the towel accidentally dropped off and revealed her huge natural boobs. She pulled her tight orange tank top down fast but it was too late. She has already got caught. While she saw what just happened she put the smile on her face. A … Continue reading Busty wife accidental boobs flash on beach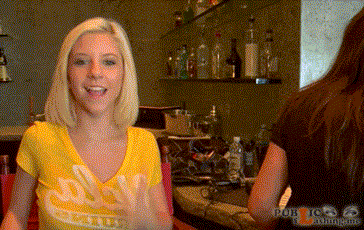 Cute teenage blonde waitress is sending a nice message trough the animated GIF. A kiss and boobs for good luck.  Naughty babe pulled up her yellow T shirt and started to jiggle her natural cute natural titties while she was in cafe bar. Big smile on face and perky tits are more than enough for … Continue reading Kiss and boobs flash teen blonde waitress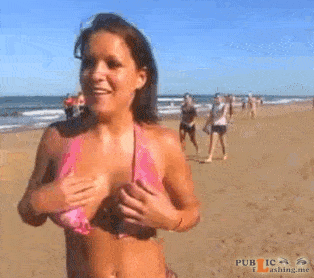 Cute college girl is flashing her big, round melons with tiny nipples and pokies on a public beach. What this lucky camera guy asked her, why she agreed to share her golden Congo bongos we will never know. The only we can do is to enjoy in a perfect big jugs flashing GIF and a cute … Continue reading Big fake boobs flashing on a beach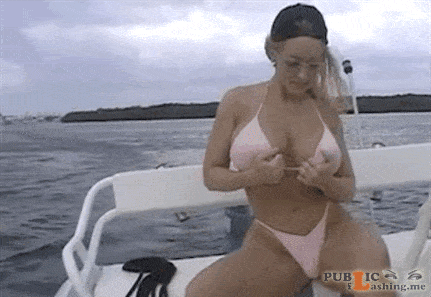 A super sexy girlfriend in baby pink micro bikini and baseball cap is flashing her huge fake tits for her BF on his yacht. An attractive blonde with really beautiful curvy body is gently moving her bikini top to side and touching her big breasts and nipples. She is wearing glasses what makes her somehow … Continue reading Curvy blonde boobs flashing on yacht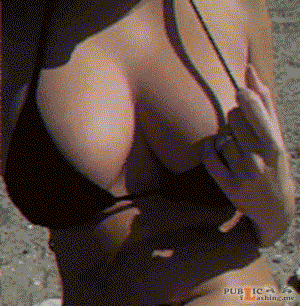 An incredible boobs flash GIF where some unknown girl is sharing her big natural juicy breasts with some boyfriend. They were on some public beach when there weren't too much people when she decided to move aside her black bikini and show her really big natural boobs to her BF who was holding the camera. … Continue reading Really big natural boob flashing on the beach